Le nostre soluzioni di reclutamento temporaneo sono progettate per aiutarvi a trovare candidati qualificati che possano aggiungere un valore concreto al vostro team fin dal primo giorno per aiutare a realizzare progetti, colmare una carenza di competenze a breve termine o aiutarvi a migliorare rapidamente il vostro business.
Abbiamo esperienza nel collocamento di appaltatori, freelance e lavoratori in leasing nei principali Paesi europei, con contratti e accordi specifici in 15 Paesi, compresi gli Stati Uniti.
A seconda della vostra posizione e del luogo in cui avete bisogno di inserire un appaltatore, sono disponibili diverse opzioni di assunzione.
I 3 modelli principali di temporary recruitment che offriamo sono:
Liberi professionisti o appaltatori: I dipendenti che rientrano in questo modello svolgeranno le loro mansioni e presenteranno al vostro team i fogli di presenza per l'approvazione, che verranno poi fatturati da noi e pagati al libero professionista.
Portage: Si tratta di un modello simile a quello del freelance attraverso una società ombrello, ma specifico della Francia e dei Paesi Bassi.
Locazione di manodopera: Questo modello prevede che il dipendente temporaneo sia tecnicamente alle nostre dipendenze e che noi affittiamo i suoi servizi a voi, il che rappresenta un'ottima soluzione se non avete la possibilità di aggiungere personale al vostro team.
Come i team di NonStop che si concentrano sul recruiting permanente, anche quelli che si concentrano sulle soluzioni di recruiting temporaneo lavorano in mercati di nicchia.
In collaborazione con il più ampio team di NonStop e con il nostro team interno di ricerca di mercato, i nostri consulenti ampliano costantemente le loro conoscenze e i loro network, mappando i mercati per individuare nuove opportunità e aiutandovi così a rimanere davanti alla concorrenza nella ricerca dei talenti.
Settori per cui reclutiamo
.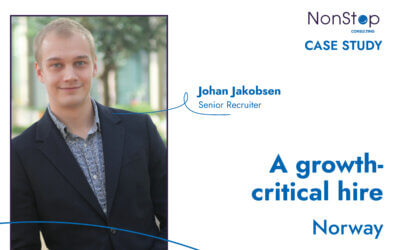 One of our specialised medical device recruitment consultants noticed a Norwegian neuroimaging company had been advertising a sales and marketing manager role for several months. It was a small company, a spin-off of a larger company, developing medical devices used...
leggi tutto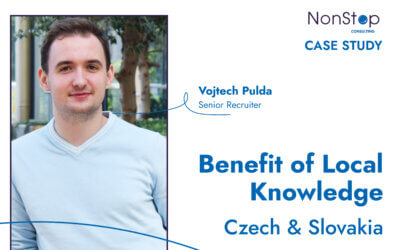 This client is a global leader in non-invasive orthopeadic products originating in the Icelandic region. Thanks to the innovative nature of these products, which are used in prosthetics for amputees, this company has experienced a rapid expansion of their company and...
leggi tutto
One of the major players in in-vitro diagnostics, our partner for almost two years, was experiencing an increased demand for its products. Based on this, it was able to quickly develop a secondary range and increase sales by more than 90% in one year. This good health...
leggi tutto