Le nostre soluzioni di recruitment a tempo indeterminato sono pensate per aiutarvi a trovare candidati qualificati che resteranno con voi a lungo termine, di solito con contratti a tempo pieno per un periodo di tempo indefinito.
Il nostro obiettivo è capire quale sia il vostro candidato ideale, per poi trovare quel candidato il cui ruolo ideale corrisponde alla posizione che state cercando di coprire. Crediamo che garantire questa corrispondenza di bisogni da entrambe le parti si traduca nella soddisfazione lavorativa di lungo termine per il dipendente, mentre voi ottenete una persona che possa aggiungere valore concreto al vostro team e crescere all'interno dell'azienda.
I 3 modelli principali di permanent recruitment che offriamo sono:
Contingency recruitment: è il nostro servizio on-demand in cui ci impegnate a trovare uno o più dipendenti in base alle vostre esigenze. Questo vale sia per il personale a tempo indeterminato che per quello a tempo determinato.
Assunzione a tempo determinato:anziché pagare in base al successo, in genere pagherete un importo anticipato e poi una rata nelle fasi chiave del processo per ottenere un impegno e risorse ancora maggiori da parte di NonStop.
Executive search: è una forma di reclutamento altamente specializzata, effettuata da alcuni dei nostri reclutatori più esperti per aiutarvi a ricoprire ruoli di alto livello.
I team di NonStop che si occupano di recruitment a tempo indeterminato lavorano ciascuno in nicchie relativamente ristrette, per garantire che la loro conoscenza del mercato e i loro network di candidati non siano secondi a nessuno.
In collaborazione con il più ampio team di NonStop e con il nostro team interno di ricerca di mercato, i nostri consulenti ampliano costantemente le loro conoscenze e i loro network, mappando i mercati per individuare nuove opportunità e aiutandovi così a rimanere davanti alla concorrenza nella ricerca dei talenti.
Settori per cui reclutiamo
.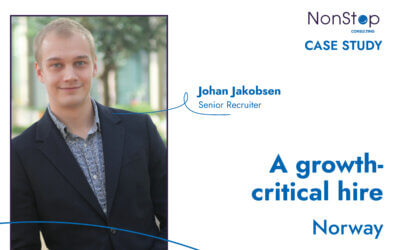 One of our specialised medical device recruitment consultants noticed a Norwegian neuroimaging company had been advertising a sales and marketing manager role for several months. It was a small company, a spin-off of a larger company, developing medical devices used...
leggi tutto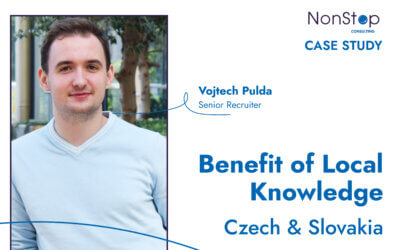 This client is a global leader in non-invasive orthopeadic products originating in the Icelandic region. Thanks to the innovative nature of these products, which are used in prosthetics for amputees, this company has experienced a rapid expansion of their company and...
leggi tutto
One of the major players in in-vitro diagnostics, our partner for almost two years, was experiencing an increased demand for its products. Based on this, it was able to quickly develop a secondary range and increase sales by more than 90% in one year. This good health...
leggi tutto