Our temporary recruitment solutions are designed to help you find qualified candidates who can add real impact to your team from day one to help fulfil projects, fill a short-term skills gap, or help you quickly scale up your business.
We have experience in placing contractors, freelancers, and labour leased employees in key European countries, with specific licences and agreements in 15 countries, including the USA.
Depending on your location and the location you need to employ a contractor, there are different employment options available to you.
The three main models of temporary recruitment we offer are:
Freelancers or contractors: Employees under this model will typically carry out their duties, and submit timesheets to your team for approval, which we would then invoice you for, and pay the freelancer.
Portage: This is similar to the freelancing model through an umbrella company, but is specific to France and the Netherlands.
Labour lease: Under this model, the temporary employee would technically be employed by us and we would lease their services out to you, which is a great solution if you do not have the option to add headcount to your team. 
Much like the NonStop teams focusing on permanent recruitment, those focusing on temporary recruitment solutions each work narrow nice markets.
Liaising with the wider NonStop team and our in-house market research team, our consultants are consistently expanding their knowledge and their networks, mapping the markets to spot new opportunities and thereby helping you stay ahead of your competition in the race for talent.
Industries we recruit for
.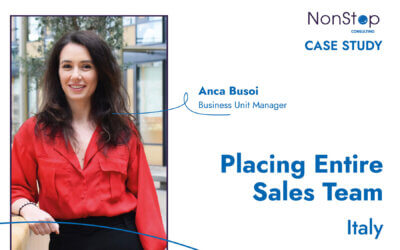 Our client, the Italian subsidiary of one of the world's largest in-vitro diagnostics companies, had acquired a company in genetic testing. It therefore needed to build a sales team as soon as possible in order to promote the new genetics portfolio to the Italian...
read more