Our permanent recruitment solutions are designed to help you find qualified candidates who will stay with you for the longer term, usually on full-time contracts for an indefinite time period.
Our aim is to take your brief and understand your ideal candidate, then find that candidate whose ideal role is the position you are looking to fill. We believe that ensuring this ideal match from both sides results in long term job satisfaction for the employee, while you get someone who can add real value to your team and grow within your company.
The three main models of permanent recruitment we offer are:
Contingency recruitment: is our on-demand service where you engage us to find you one or multiple employees as and when you need. This applies for both permanent and temporary staff.
Retained recruitment: rather than paying on success, you would typically pay an amount up front and then an instalment at key stages of the process to gain even greater commitment & resources from NonStop.
Executive search: is a highly-specialised form of recruitment undertaken by some of our most senior recruiters to help you fill your senior-level roles.
NonStop teams focusing on permanent recruitment each work relatively narrow niches to ensure their depth of market knowledge and candidate networks are second to none.
Liaising with the wider NonStop team and our in-house market research team, our consultants are consistently expanding their knowledge and their networks, mapping the markets to spot new opportunities and thereby helping you stay ahead of your competition in the race for talent.
Industries we recruit for
.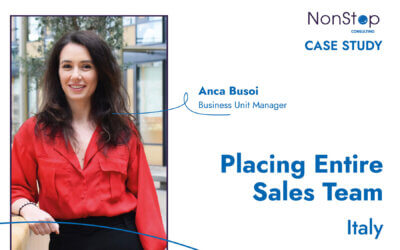 Our client, the Italian subsidiary of one of the world's largest in-vitro diagnostics companies, had acquired a company in genetic testing. It therefore needed to build a sales team as soon as possible in order to promote the new genetics portfolio to the Italian...
read more