CONNECTING TALENT WITH OPPORTUNITY
Having the right people in place can be the difference between your company's success, or not. Here at NonStop, we act as a strategic partner to design the best staffing solutions for your needs to ensure you have the right talent in the right place at the right time.
Only about 70% of job vacancies are properly advertised online. As specialist recruiters, once we understand your career aspirations and ideal working arrangements, we can present you with the best opportunities on the market, including those that are not advertised publically.
"To connect talent with opportunity non stop in a fair and meritocratic way; with a core belief that everyone deserves an equal chance to develop, grow, succeed"
Industries we recruit for
.
NonStop have become our preferred off-contract agency due to their diligence, proactivity and expert industry knowledge. They are one of the top performing agencies we work with and we would highly recommend them.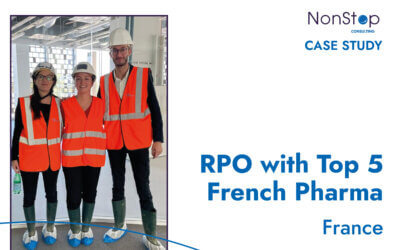 Servier, one of France's largest pharmaceutical companies was opening a research and development site in Saclay, and therefore needed over 100 new employees within six to 12 months, building up to 1500 over a couple of years. The aim of this global innovation hub is...
read more